Time to shop!
January 26, 2021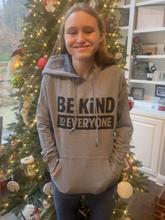 I'm not gonna lie. We LOVE to shop! But, why should Amazon get all the business? We are passing along some really cool businesses that have great items and support our special needs community at the same time! Next time you need a gift or need to pick up some essentials, check out some of these businesses and financially back some amazing entrepreneurs.
Jordyn's Summer Shirt Program-Be Kind to Everyone. https://bekindtoeveryone.com/ This company has some very cute shirts, hats, cups etc..that all spread the BE KIND message. Jordyn rolls, bands and puts a message on each order. We will all be walking around with the Be Kind message because their things are so wearable!
John's Crazy Socks. https://johnscrazysocks.com/ When you go to the website, just go right to the funny socks! These are all so creative and funny. I already have an ongoing list of people who are getting these! This wonderful company hires people from all abilities and supports Special Olympics with each purchase.

Make room in your sock drawer...you're gonna need it!

Mod Market.https://www.livingandlearningc... Head on over to downtown Northville to take a look at Mod Market! It's a gallery, gift shop and coffee bar. Lots to look at and buy to support a worthy local business.
Happy shopping everyone!